The Bamber Bridge Makin Organ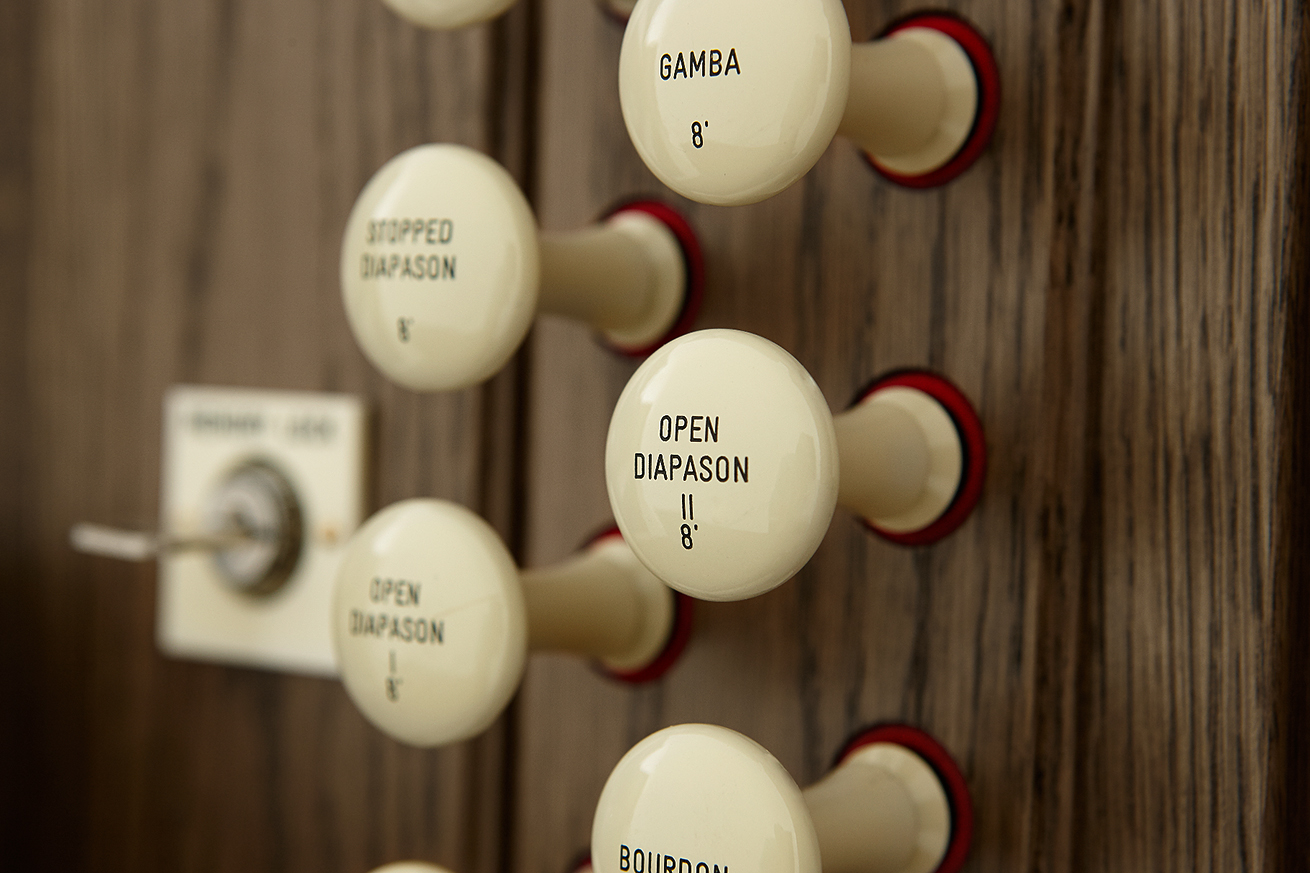 Bamber Bridge Methodist Church first got involved with Makin Organs when our three-manual 19-stop pipe organ gave up the ghost in 2002 and we were faced with an estimate of £100,000 to rebuild it. Another problem we also had was that the building was also in a poor state of repair and a big debate was going on as to whether to repair the building and replace with a new one but that was more long term. After discussions with Makin it was decided to purchase a Makin Majestic 3-39 tabstop organ (three manuals and 39 stops) which could later be taken out of the building and installed in a new building at a later date. This organ was far superior to the old organ and for over two years it was magnificent in the old building.
In late 2004 our old building was demolished and Makin took the organ away for storage. The new building was opened in late 2006 and the organ was returned to be installed in the new building. Throughout the building phase the then MD of Makin Organs gave advice to the Church authorities and the architects as to the positioning of the console and speakers and all the cabling was put into trunking inside the walls so that it cannot be seen. An excellent job was made of the installation but, on the day of installation, no testing was possible as the builders were still frantically trying to finish the building before the first service was due to be held. Unfortunately this meant that when the organ was used for the first service it was found to be far too powerful for the new building. A quick fix was found and that was to simply reduce the volume in the memory settings but it was to be six years before the Church could afford to have the organ properly voiced.
As we approached the 10th anniversary of our new building in 2016 we were all challenged to think about whether we had somehow become settled in our ways and could we do things differently. I looked at our Makin organ and wondered if some of the stops could be changed and, bearing in mind our two organists are of increasing years and finding some difficulty in reaching the extremities of the tabstops, whether it could be converted into a drawstop organ. I discussed the problem with the Minister and was informed there was no money available but, nevertheless I was given permission to approach Church Organ World to explore the possibilities and get some costings.
I duly contacted Church Organ World and arranged a visit to the Showroom in Shaw. Although I had been playing a Makin organ for 14 years this was the first time I had ever been there. I knocked on the door nervously and was welcomed with open arms. I had met Dr Keith Harrington when he had voiced the organ 4 years previously but it was like meeting an old friend. We sat down round a big table fortified by cups of coffee and I produced a sheet of proposals of possible changes to the organ including reducing it to a two manual as I thought that it was really too big and powerful for the building. We went through all the options but it soon became apparent that whatever I wanted to do was either not physically possible or simply too expensive. At that point Dr Harrington said he thought that the cheapest option would probably be to purchase a new organ as no second hand drawstop organs were currently available. He then introduced me to the Makin Thirlmere 2-30D organ and left me to "try it out" whilst he went to sort out the costs. I was spoilt. When he returned he presented a financial package which contained elements I had never thought of and the impossible suddenly became possible. By the time my wife and I got home we had a plan to put to the Church.
It took about three months for our plan to pass through all the various committees but then we got agreement to go ahead and order the new organ. The organ was installed in the week before Christmas 2016 and in February of this year it was voiced by Dr Harrington.
Our Thirlmere organ is made of light oak to match the rest of the Church furniture and is a stunning instrument. Many of the congregation have commented that its tone is much sweeter than the old organ but yet is has plenty of power to fill the building (I still get the odd complaint that I play too loud.) It now sits on a plinth so that it can be moved easily because every Friday afternoon we have an After School Organ Club from the day school next door with a small group of 8 to 11 year olds who are fascinated by the organ. The kids were "well impressed" when they saw the new organ for the first time.
We also have a four year old in the Church who is also fascinated by it and fully intends to be an organist when he gets older. A couple of other young people have also expressed an interest in taking up the organ as a hobby. One of the justifications for the new organ was that it would be easier to play and thus easier to teach to younger people. This has already been proved to be the case. Now, instead of just being a piece of furniture in the corner, the new organ has really awakened an interest in the congregation.
But what of the old Makin Majestic organ, you might ask? Although Church Organ World doesn't do part exchange deals they did agree to take it away and sell it on our behalf at a price we agreed. However a few days before it was due to be taken away we received a request from our neighbouring C of E Church just down the road to ask if we could put them in contact with some company who could supply a second hand organ as their pipe organ had recently been condemned due to water damage caused by vandals taking lead from the roof. The Church has been struggling for the past few years with this problem and has only just re-opened after a lot of repair and re-decorating work. I passed a message that our old organ would be available but it was on its way to Shaw and they would need to contact Church Organ World as we were under contract for them to sell it for us. The organ is now installed in that Church and I understand they are as pleased with it as we are with our new organ. It will certainly suit that sort of building.
The story doesn't end with the buying and selling of these two organs. For many years I have harboured a desire to own a practice organ but never thought this would be possible as a full pedal board would take up too much space. On my first visit to Shaw we were stood next to a Johannus Studio 170 and I joked with Dr Harrington that when that organ was first introduced I fancied it but there wouldn't be enough room. At this point he simply reached down, picked up the pedal board with one hand and stacked it under the console. "Does that solve the problem?" he asked. At that point we reached an understanding that once we had dealt with the new church organ we would discuss having a Studio 170 at home. That instrument has now been installed in our house and I am now a very happy man with two new organs to contend with. The Johannus is quite different in many respects but still a pleasure to play and a bit of a challenge. Some of the stops have the same names but sound different whereas some have different names but sound the same. There are no Diapasons so I have to think Principals and Octaves instead. It's fun!
So, in the past 12 months, we have dealt with the purchase of two new organs and the sale of one old one. On the way there might have been one or two hiccups but everything is fine now. I would like to place on record my personal thanks to Dr Keith Harrington who has taken personal charge of the whole project. He has always been available at the end of a telephone call or the many e-mails, always ready to answer a question and come up with a solution to any problem. Throughout I have felt that I was not dealing with a large business but with a friend. That goes for all his staff as well. To Steve, John, Corbie and Mark, who I met along the way and who all had a hand in the surveys and installation of the organs, I extend my personal gratitude. I know there are others who I have not met and you all make up a great team. I wish you every success in the future and will have no hesitation in recommending you to anyone.
It is now 15 years since the first Makin organ was installed in Bamber Bridge Methodist Church. During that time I have had the opportunity to play other makes of digital organs but have never thought that they came up to the standard of a Makin organ. I do not regret for one minute recommending to the Church that they select Makin as their preferred organ supplier. I hope the good Lord will look kindly on me and bless me with many more years of playing these instruments.